Yio Ji-Cong's First Chinese Calligraphy Exhibition: Austerity
Date:2020-07-24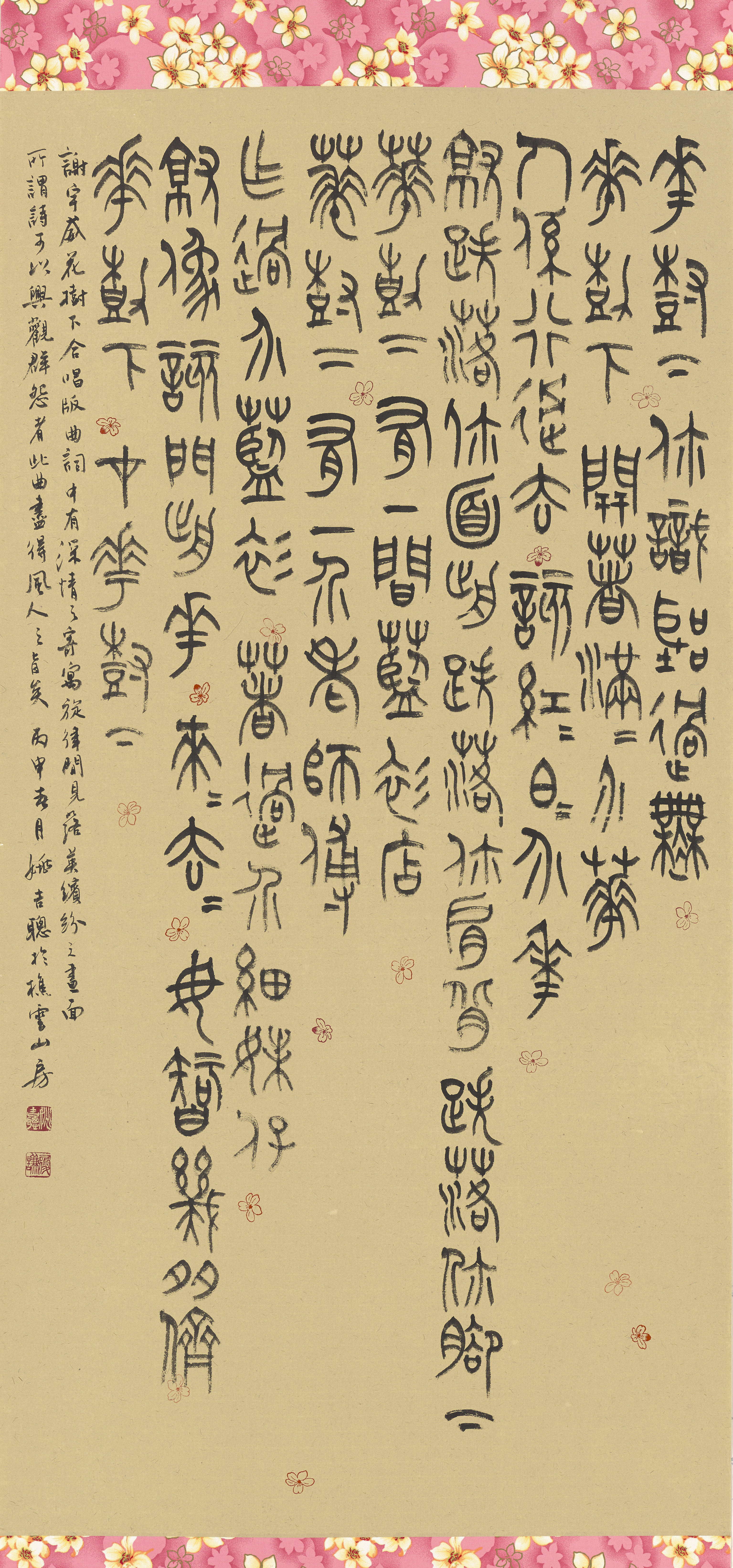 Exhibition dates: July 24 – August 23 ,2020
Venue: 2F Gallery II of Taichung City Huludun Cultural Center
Ji-Cong began his endeavors in calligraphy at the Department of Chinese, National Taiwan University—an important institution in this field. Posteriorly, he made seal script his study subject, focusing on works from the Qing era. He meticulously compared and traced the roots of each style back to oracle bone and bronze scripts.
The Calligraphy Group of MingDao University's Institute of Chinese Studies was founded in 2004. Ji-Cong had already attained a degree of fame at the time, ensuring his acceptance. In the following three years, he came under influence of multiple contemporary calligraphers of renown. He expanded his horizons by taking all professional calligraphy courses, bringing his craft to unprecedented heights and earning consecutive honors in national exhibitions. His master's thesis, Study on the Form of Late Qing Seal Script Calligraphy, set off from his own views and was to the point, earning him utmost approval. This earned him a name in both research and artistic creation. Before and after this accomplishment, seal script works by Ji-Cong earned recognition in the Taiwan Provincial Fine Arts Exhibition, Dadun Art Exhibition, and National Art Exhibition, ROC. In 2010, he enrolled at the doctoral program of National Chung Hsing University (NCHU).Choosing calligraphy as thesis topic out of personal interest is not uncommon. Ji-Cong finds great pleasure in research while obtaining further inspiration for his own creations. The mandatory course on etymology he took during his freshman year in university left him solid foundations for small seal script. Even without instruction from a teacher, his writing was clear and striking. Talent shone through his humility. Unlike Deng Shi-Ru, his starting point was not the assumption that seal script followed clerical script. Instead, he turned toward the style of legendary Tsung Hsiao-Chen of National Taiwan Normal University, renowned for his aesthetics of "graceful and flowing seal script" as mentioned in the Shu Pu (treatise on calligraphy). On the other hand, he was also influenced by one of his study subjects—etymologists of the Qing era. Their style was unembellished, decorous, and solemn as scrolls. Ji-Cong was ruled by such high standards, and emulated the strengths in each of their styles, gradually developing features that differ from the dry, forceful strokes prevailing nowadays.
Navigating through calligraphy works is pure pleasure for him, and his dexterous hand excels in both large and small seal script. Their respective virtues show the wonders of ancient characters with bustling vitality. Semi-cursive script from signatures and inscriptions of works in this exhibition are evocative of the spirit in those by master Wang Zhong, further adding overall interest. Elegance and simplicity are reminiscent of writing by Lu Shi-Nan, yet there are hidden wonders under this plain guise. The saying that writing resembles the calligrapher is accurate in this instance. Austerity is self-restrained and pure. This solo exhibition is worth expecting splendid surprises.
Updated:2020-08-28 11:59